21st May 2013
The UK Government is cutting social security benefits, including Housing Benefit. From April 2013 the Welfare Reform Act 2012 and Housing Benefit (Amendment) Regulations 2012 introduce 'under occupancy' rules, the so-called 'Bedroom tax'. This affects tenants of councils and housing associations who rely on Housing Benefit to pay their rent, in whole or in part, who are of working age, and whose home has more bedrooms than the law considers necessary for their family's needs. It is estimated almost 100,000 tenants could be affected across Scotland, losing on average £12 a week, and as much as £22 in ...
19th March 2013
Click the image for the latest Annual Report...
1st February 2013
Click here to link to the stats
5th December 2012
The Carrington Dean Group held a conference on Monday 3rd December to debate recent changes to the law of eviction & repossession in Scotland. The full event was live streamed and is now available to watch on video. The sessions are divided
into chapters so you may find specific talks and speakers, including RLC's own Jon Kiddie in the morning session, speaking about RLC's proposal for a winter amnesty on eviction:
http://blog.yourdebtexpert.com/2012/12/the-carrington-dean-repossession-conference/
5th November 2012
It has come to the attention of Renfrewshire Law Centre that certain private companies are operating profit-making, highly questionable and potentially illegal money making schemes at various car parks in Renfrewshire. These include apparently free customer car parks at shops and even patient/visitor car parking facilities at NHS premises.
This kind of scheme typically involves issuing a 'Charge Notice' or similar, which is attached to your car or left under your windscreen wiper. This kind of Charge Notice is designed to look like it has been issued by an official organisation, whereas in fact it is issued by a ...
3rd July 2012
Writing as I now am on this matter towards the end of one of the wettest June's on record, I am put in mind of that famous old Scottish joke about our having two seasons: winter and July. That said, at the height of our 'summer', one sometimes forgets just how bleak our winter can get, like a long dark cold miserable tunnel that lasts from October till March, yet sometimes feeling as though it might go on forever. And I'm speaking from the point of view of a soft Lowlander.
In the early days of my career ...
28th May 2012
On Friday 25 May 2012 lawyers, judges, academics and others joined Renfrewshire Law Centre in parading through the streets of Paisley from the Town Hall to the side of the old Wellmeadow Cafe to commemorate the 80th anniversary of the famous legal case of Donoghue v Stevenson.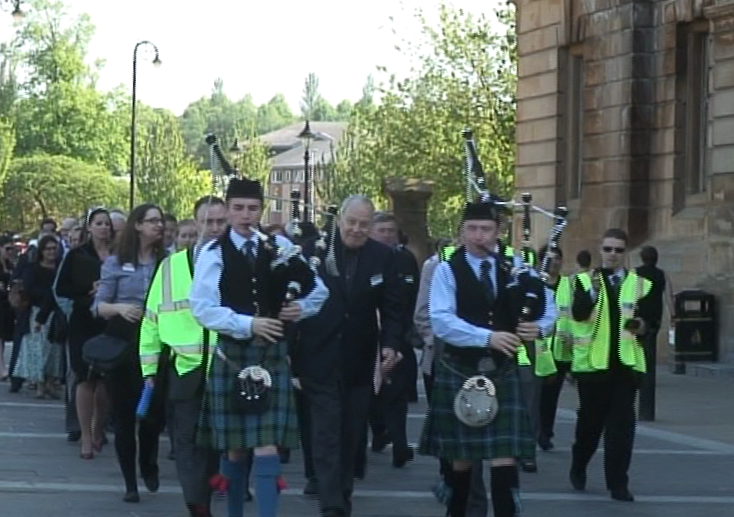 Martin Taylor QC leads the Parade with Jon Kiddie, RLC Principal Solicitor, and Dale McFadzean of UWS Law Department. UWS students acted as marshalls along with other helpers.
Jon Kiddie welcomes delegates to the site of the old Wellmeadow Cafe, recently renovated thanks to lobbying by RLC and UWS, and owing to the ...
28th May 2012
At last over two years of planning came to fruition with great success as the Major International Conference, 'Who Then In Law Is My Neighbour', took place in Paisley on 24, 25 and 26 May 2012, celebrating the 80th anniversary of the judgment in the famous legal case, Donoghue —v— Stevenson, which originated in Paisley and changed the law throughout the world.
The Conference was the brainchild of RLC Principal Solicitor, Jon Kiddie, hatched while sharing a hipflask on a Christmas country ramble with aider and abettor, Joe Bryce, Advocate, back in December 2009. Their idea could only have ...
14th May 2012
5th March 2012